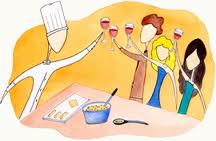 Summer 2017 Pop-up:
"This is event was a real treat! From the food to the wine to the environment, everything was perfection. I would definitely attend another pop up dinner given by My Chef Lara."
May 2017 Spring Pop-up:
Last night we attended a Pop-Up Dinner hosted by My Chef Lara. The menu was inspired by Food and Wine magazine. Each of the 5 courses was expertly paired with a wine. Norbert and Holly explained each course and pairing. It was great to have an inside look at the process.
Overall, the food was absolutely amazing! I am a vegetarian and I felt that they accommodated me without sacrificing any of the flavor. My fiance had the salmon and said that it was perfection.
The whole experience was just wonderful. It was an intimate evening, with great food, wine and great new friends.
We're very much looking forward to the Pop-Up Dinner in July!
Really!  We had a great time!  Hope to do it again soon!
We attended an exceptional pop-up dinner in Providence. We had high expectations which were exceeded. The gravlax, the smoked gouda with fettuccini, the chicken thighs on green papaya salad and the strawberry honey cake were beyond description. Another pop-up will come in summer. Seating is limited, so go to mycheflara.com. Hope to see you there"