Our goals are to make each meal the very best you have ever tasted, save you time, allow you to eat healthier and bring back the joy of dinner at home. In order to accomplish these goals there are many things that we offer.
Our offerings are customizable to suit your needs so if you do not see something you would like below please feel free to contact us and ask.
Weight Management
Medically Supported Diets
Ethnic Cuisines
Share-A-Chef
How does meal replacement work? 
"My Chef Lara's" pricing structure is a service fee plus the cost for groceries.
The cost varies depending on the type of service selected. As an example, to plan, shop for and prepare 10 nutritious dinners for two people (20 meals), the service charge is $370, plus the cost of groceries.
Plan Types: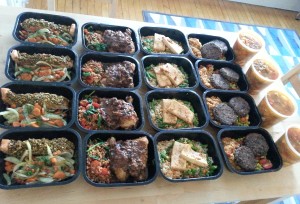 5 entrees / 4 portion Meal service = 20 meals
4 entrees / 4 portion Meal service = 16 meals
3 entrees / 4 portion Meal service = 12 meals
Pricing per meal depends on the number of meals we can prepare during one cooking day.
Our most affordable option is a 5×8 which gives you a total of 40 complete meals for a per meal price of less than $17.20 including all groceries. This is less than what you would pay for a take-out or order-in option
Additional services are charged at an hourly rate of $50 / per hour.
To see some sample menus we have cooked for our clients, please click here.
Service Area 
Our service area covers Southern MA and RI (about 1/2 hour to an hour radius from Providence, RI).  This covers as far north as Worcester/Needham areas and all of RI.  Depending on location additional fees may apply.
Please contact us for any additional information you may need on this.
Cancellations 
Of course, things happen in all of our very busy lives. Please try and give us up to 7 days notice if you are going to need to move or cancel your meal service. As a small business owner, this means a great deal and will be very much appreciated. Just leave us a call or txt or email and we will confirm your request within 24 hours.
How long will the food last?
How long the food lasts really depends on many factors including how often you eat out, if you will do any of your own cooking, etc. Below is a table of information with approximations of how long the food packages may last for a 5×4 service:
| | |
| --- | --- |
|  5×4 Service:  |   Time |
|  1 Person |  4 – 8 weeks |
|  2 People |  2 – 6 weeks |
|  4 People |  1 – 2 weeks |
Additional Services Details
Weight Management
Our menus can be customized to achieve many goals in a variety of ways.  If you are looking to lose weight, gain weight or simply maintain using Weight Watchers points, Calorie counting or any other method we can help!  Using portion control and menu analysis we can provide tasty and stress free ways to achieve your goals! (included in regular meal service at no extra charge)
Medically Supported Diets
Are you hypertensive and need to limit salt? Are you allergic to peanuts? We can support you in meeting any kind of medically restrictive needs and at the same time show you that you can eat well and with flavor! Allow us to help navigate the sometimes confusing requirements of your medical needs. (included in regular meal service at no extra charge)
Ethnic Cuisines
The world of food has so much to offer and we love to cook from an extensive array of ethnic options.  We are open to any cuisine and will work with you to offer you the flavors and dishes you desire.  Our specialties are German, Thai and Italian but we do much more then that. Let us bring the world's cookbook to you! (included in regular meal service at no extra charge).
Share-A-Chef
This option will allow you to share our service charge with another family.  You would choose which meal service you would like and we would do menu planning with all involved and create a menu based on all of your preferences.  We would then cook at the kitchen of your choice and portion the meals as needed for you to share. (included in regular meal service at no extra charge)