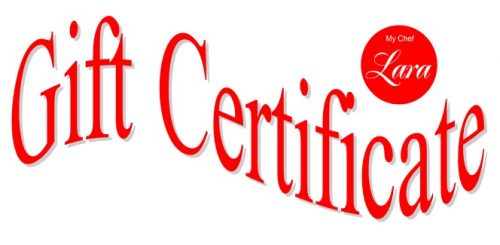 They can be used for any of our services and they are available in any denomination.

Here are a couple of examples:
Stay out of the kitchen for two or more weeks:
starting at $370 (plus cost of food)
This is a perfect gift for YOURSELF or somebody who really needs it, like young moms, your parents, your injured co-worker, your sick neighbor or anybody else who wants or needs to stay home and does not want to go shopping.
This service can create up to FORTY (40) ready to eat meals, packaged in containers, labeled with re-heating instructions stored in your fridge and freezer. The meals can be re-heated in an oven or a microwave in the container they are packaged in. This is also a great lunch idea for very busy people. Give it to your co-worker (or boss) who does not eat healthy at all, hint, hint.
Romantic Dinner for 2:
starting at $270 (includes food)
This is a perfect gift from "Him to Her" and "Her to Him":
In the quiet and familiar atmosphere of your home you will have a perfect setting for a 4 course gourmet dinner and do not have to worry about a thing.
My Chef Lara will take care of everything. After we leave, it is up to you…..
Cooking Class for 4-8 people:
starting at $400 (includes food)
This is a perfect gift for couples or small groups to learn how to get along with each other in the kitchen, learn how to use a knife and how to prep and cook food for a complete meal.
We also offer a "power of the glass" as an add-on to the cooking class in which we show that the very same wine does taste different from different glasses. It will "BYSO" ("blow your socks off").
(In-) Formal Dinner for 6-8 people:
starting at $500 (includes food)
Rather than inviting people to a restaurant, invite them to your home and have them enjoy your very personal hospitality. Give them the gift of your gratitude. We will take care of the menu and even the personalized invitations and of course the very best food and wines you can imagine.
Cocktail Party for up to 20 people:
starting at $600 (includes food)
Have appetizers and drinks in your or somebody else's home and get to know everybody in a relaxed and controlled atmosphere. Have fun and enjoy the food and the conversations. Give it to your friend and let them invite you….
The BIG "Thank You":
starting at $175 (plus cost of food)
This is an ideal "Thank You" gift to people who helped you in the past. It consists of two complete meals of 4 portions each, packaged in containers, labeled with re-heating instructions and stored in their fridge and freezer.
Each of the gift certificates comes in a personalized format with your and the recipient's name (and logo) and a description of the service. It is laser-printed on glossy 3 tri-fold brochure paper and can be sent to either you or the recipient.
We are able to take orders over the phone and then will get in contact with the recipient to finalize the arrangements. What can be easier than that?
Food is a very personal subject and people really appreciate this kind of gift. What would you say if you got one?

A "My Chef Lara" Gift Certificate for ………………… my wife, my husband, my girlfriend, my boyfriend,
my mom, my dad, my boss, my children, my secretary, my co-worker, my neighbor, my (pregnant) sister or friend, my brother, MYSELF or any other person who I think will like it.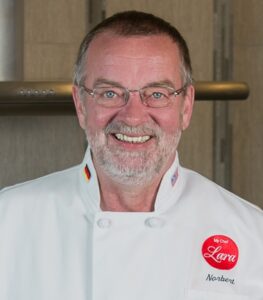 Call us NOW:
401-831-1657
and we will take care of the rest.