Basic Knife Skills are essential for everybody…….
(Cooking without knife skills is like a cell phone without service)
You are wondering how to safely approach and cut your vegetables? They might need slicing, dicing or mincing, or is chopping enough? Maybe a chiffonade, a julienne or a brunoise cut?          O dear…..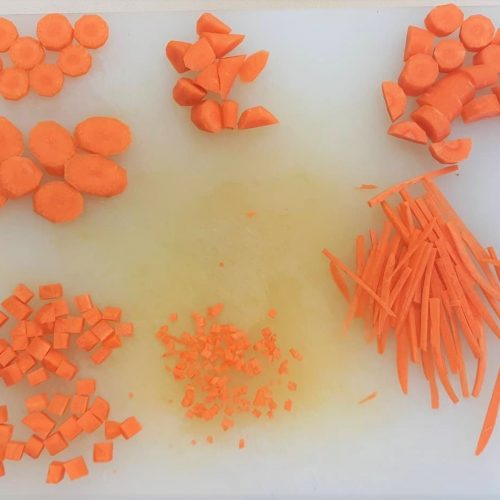 You would love to make a salad but it takes too long to chop all those vegetables?
Maybe you have problems with peeling and cutting hard veggies like butternut, spaghetti squash or sweet potatoes? We show you solutions to these very common problems without having to use other tools like a hammer or an axe. One of your kitchen knives is just fine and can easily do the job if used the correct way.
Best way to cut spaghetti squash into halves with a serrated knife.
Are you scared to cut tomatoes because they will splatter all over the counter and on your clothes?
Come to one of our Knife Skills classes and learn how to safely and quickly chop, dice and mince the food you eat and you will avoid all of these problems!
We conduct an in-person class in a kitchen environment with a maximum of 10 participants and this enables us to watch each person and help correcting individual imperfections.
You learn everything about knives like knife safety, how to hold a knife, different kinds of cuts as well as some tips and tricks from the chefs.
In conclusion, this is a basic class and you do not want to miss it!
You bring your own knife (6 or 8 inch Chef Knife preferred) and get it evaluated and honed for free…… The class will be taught using your own knives, but I also have some sharp spares to use.
Low cut on multiple butternut squash sticks to create diced cubes for a rice dish.