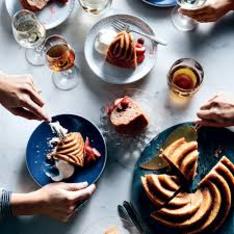 The best cure for spring cabin-fever is to come out and enjoy fabulous food and great company at My Chef Lara's Spring gourmet pop-up dinner!
Imagine an intimate venue with candlelight, fabulous wine and wonderful conversation located close to home in Providence! Mark your calendars for May 13th at 6:30pm and reserve your place now.
We invite you to enjoy a five course menu which was hand picked by our Chefs. Come alone or bring a friend to enjoy the food, the wines and good company at the dinner lounge of the Regency Plaza in Downtown Providence. Parking is free.
My Chef Lara started this type of POP-UP gourmet dinner in June of 2014 as a recurring monthly event. This dinner features an intimate and exquisite 5-course gourmet dinner accompanied by 4 different wines paired with the delicious courses.
In order to maintain the highest quality we are limiting seating to a maximum of 12 people, please reserve your seat by clicking the following link: click to purchase tickets online. You do not want to miss out on this exclusive offer to bring in Spring in style.
Food & Wine Chef Inspired Menu:
Beet and Vodka Cured Gravlax on Toasted Baguette with a Mustard, Dill, Horseradish & Celery Root Remoulade
Salad:
Buttermilk-Dressed Spring Greens with smoked Almonds and a Buttermilk, Cottage Cheese, Mustard, Vinegar, Tarragon Dressing
Smoked Gouda Carbonara with Bacon Crisps
Crispy Chicken Thighs with Green Papaya Salad and Salted Peanuts
Strawberry-Honey Cake with Sour Whipped Cream
Hand-picked wines for each course:
Starter and Salad:
           Prosecco Batiso (Italy)
Main Course:
      2016 Pinot Project
Pinot Noir from California, US
2016 Chateau Montaud Rose,
Cote de Provence, France
Dessert:
               2012 Viu Manent Noble Semillion
Cost per seat is $120 and tickets can be purchased online by clicking here, by email at [email protected] or by phone at: 401-831-1657. For private reservations for groups of 6 and more, please call us at 401-831-1657. All food & wine is included in the price. Join us for a meal and an experience you will never forget! Sign-up for our newsletter to be alerted of this and more events like it throughout the year.
If you cannot attend this dinner, you can also hire My Chef Lara to prepare the same or a slightly different selection in your home for you and your family & friends. We are more than happy to come to your house and give you the same great dinner experience.
We are looking forward to serving You!
Your Chefs
Holly & Norbert