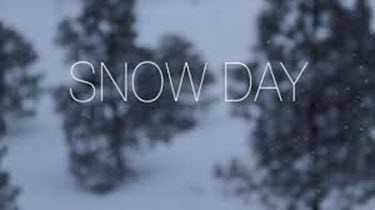 What do Chefs do when they are snowed in? They cook for themselves! On days like today I like to try out new recipes so that my cookbook never get stale. Who wants to join me? This is snowy day cooking at its best. Today I am cooking a Slow Cooker Chicken Cacciatore which I adapted from Cooking Light AND Brown Butter Bourbon Chocolate Chip Cookies which I adapted from Cozy Little Kitchen. There is no reason NOT to make Chocolate Chip Cookies in a snow storm 🙂
Let me know if you give these a try and enjoy some warm comfort food while the snow flies outside:
Slow Cooker Chicken Cacciatore
The changes I made to this recipe were to add some Italian seasoning to increase the flavor profile without adding more salt and to add chopped red bell peppers. This gives the dish a bit more texture. At home I substituted green peas for spinach and left out the mushrooms since my husband does not eat spinach or mushrooms [I don't judge]. I will update tonight to let you know how it came out!
---
 Ingredients
1/2

cup water

1

Tbsp. all-purpose flour

2

cups unsalted chicken stock

1/2

cup white wine

1/4

cup chopped fresh oregano (or 1 Tbsp dried)

1

teaspoon Italian seasoning

1/4

cup drained capers

1/2

tsp. kosher salt

1/2

tsp. crushed red pepper

8

garlic cloves, chopped

1

(28 ounce) container diced tomatoes

1

8 ounce package cremini mushrooms, quartered

8

6 ounce) bone-in chicken thighs, skinned (about 3 lbs)

2

Tbsp. extra-virgin olive oil

12

ounces uncooked spaghetti, broken in half

5

ounces baby spinach
1 red bell pepper, chopped

2

ounces Parmesan cheese, grated (about 1/2 cup)
---
 Instructions
Combine 1/2 cup water and flour in a 6-quart electric slow cooker, stirring with a whisk. Stir in stock and next 8 ingredients (through mushrooms). Add chicken thighs to stock mixture; submerge in liquid. Cover and cook on low for 7 1/2 hours. Remove chicken. When cool enough to handle, remove bones from chicken; discard bones.

Add oil and pasta to slow cooker; cover and cook on HIGH 15 minutes or until pasta is done. Stir in spinach until wilted. Divide pasta mixture among 8 shallow bowls; top evenly with chicken. Sprinkle with Parmesan cheese.
Print this recipe: SlowCookerChickenCacciatore
Brown Butter Bourbon Chocolate Chip Cookies
Seriously, there was not much to change in this recipe. The words Brown Butter, Chocolate Chip and Bourbon thrown together is pretty much perfection as far as I am concerned. I used brandy just because that is what I had in the house and I increased the vanilla to 1 tablespoon because I love the taste of vanilla. I made my own cake flour by taking out 1 tablespoon from a cup of flour and replacing it with 2 tablespoons of cornstarch (In this recipe you would take out 2 tablespoons of flour from the 2 1/4 cup cake flour ingredient and substitute 4 tablespoons of cornstarch). You then sift the flour five times (yes five times) and you have a great substitute for cake flour!
---
 Ingredients
2 1/4

cups cake flour

1 1/2

cups all-purpose flour

1 1/4

teaspoons baking soda

1 1/2

teaspoons baking powder

1

teaspoon salt

1

teaspoon cinnamon

1 1/4

cup (2 1/2 sticks) unsalted butter, browned

1 1/2

cups brown sugar (I used 1 cup light brown sugar + 1/2 cup dark brown sugar)

3/4

cup granulated sugar

1 tablespoon vanilla extract

2

tablespoons bourbon or brandy

2

egg, at room temperature

10

ounces semi-sweet chocolate chips (I used a 9.5 ounce bag of Hershey's semi-sweet baking melts + .5 ounces regular semi-sweet chocolate chips)
---
 Instructions
First, brown the butter by melting it in a medium saucepan over medium heat, whisking constantly. The butter will begin to bubble and foam and then quickly after, turn a golden brown with amber specks in the butter (for more information on browning butter click here). Immediately remove from heat and pour browned butter into a small bowl and place in the refrigerator until cool to the touch.

In a large bowl whisk together the cake flour, all-purpose flour, baking soda, baking powder, salt, and cinnamon. Set aside.

When butter is cooled, cream together with the brown sugar and granulated sugar until smooth and creamy. Mix in the vanilla extract, then add the eggs one at a time, beating well after each addition. Finally, mix in the bourbon. Because do it.

Add the flour mixture to the butter mixture, mixing until just combined. Stir in the chocolate chips.

Refrigerate dough for at least 1 hour or up to 3 days. Don't skip this step! Because we're browning the butter (turning it into a liquid) instead of creaming it, it's necessary to chill the dough to prevent the cookies from spreading and baking up flat, thin, and crispy. Chilling is mandatory if you want thick, chewy chocolate chip cookies. (I actually chilled this dough for 3 days because real life was happening. They baked up perfectly.)

When the dough has chilled, preheat the oven to 350 degrees. Line a baking sheet with a Silpat baking sheet. Scoop dough into 1 1/2 tablespoon (golfball-sized) balls (I used an ice cream scoop). Bake for 10-12 minutes. Allow to cool a few minutes on the baking sheet before transferring to a wire rack to cool completely.
Print this recipe: BrownButterChocolateChipCookies