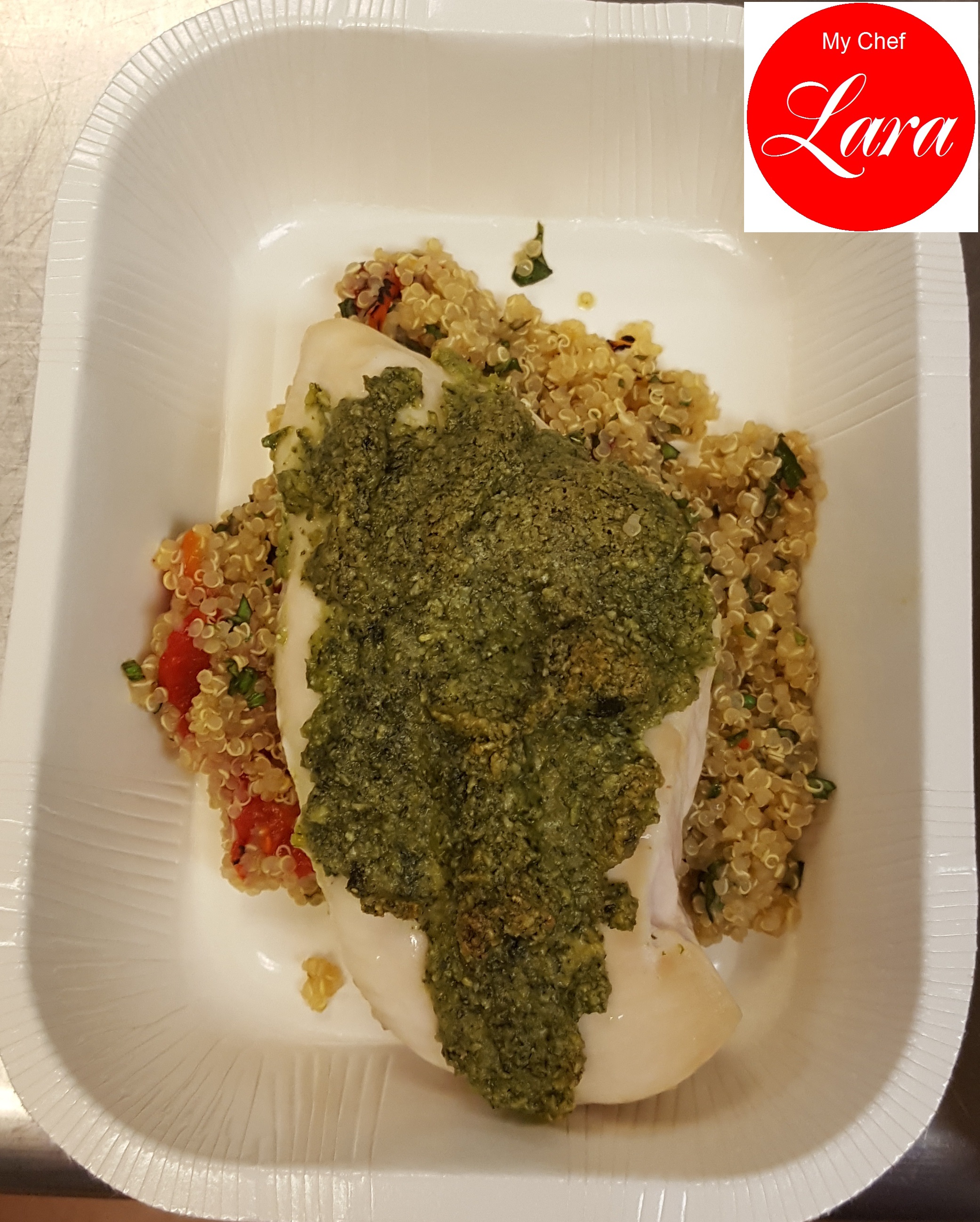 Happy November!
Everyone is always trying to find new ways to prepare and enjoy chicken. The dish we have selected for you this month is light yet fulfilling. It does take a couple of steps before it can go into the oven but smells so good as it is baking and comes out very moist…not always easy with chicken!
This dish will be great to cook for the family or for company! I would pair it with a nice buttery Chardonnay. Bon Appétit.
Basil Pesto Crusted Chicken and Quinoa with Roasted Garlic and Roasted Red Peppers
Serves 4
For the Pesto:
1 cup(s) basil leaf, fresh packed
1/4 cup(s) Parmesan cheese Reggiano or Romano
1/8 cup(s) olive oil, extra virgin
1/3 cup(s) pine nuts or walnuts
3 medium garlic clove minced
salt and pepper
Combine the basil, pine nuts, garlic, in a food processor, pulse a couple of times, then add the oil in a constant stream while the food processor is on. Stop to scrape down the sides of the food processor with a rubber spatula. Add the grated cheese and pulse again until blended. Add a pinch of salt and freshly ground black pepper to taste.
For the chicken:
4 chicken breast half
1/3 cup(s) garlic cloves, whole
1 cup(s) quinoa
1/2 cup(s) roasted red pepper from water-packed jar
¼ cup basil leaves, chopped
[FOR THE CHICKEN]
Preheat oven to 400 degrees F. Coat a large baking sheet with cooking spray.
Place chicken on prepared baking sheet. Top the chicken pieces with the pesto mixture. Wrap 1/3 cup garlic cloves in foil and place alongside chicken. Roast chicken and garlic for 25 minutes, until chicken is cooked through and garlic cloves are golden brown and tender.
Meanwhile, cook quinoa according to package directions. When liquid is absorbed, fold in red peppers, the roasted garlic cloves and basil and season to taste, with salt and black pepper.
Plate the Quinoa and then add the chicken breast on top.