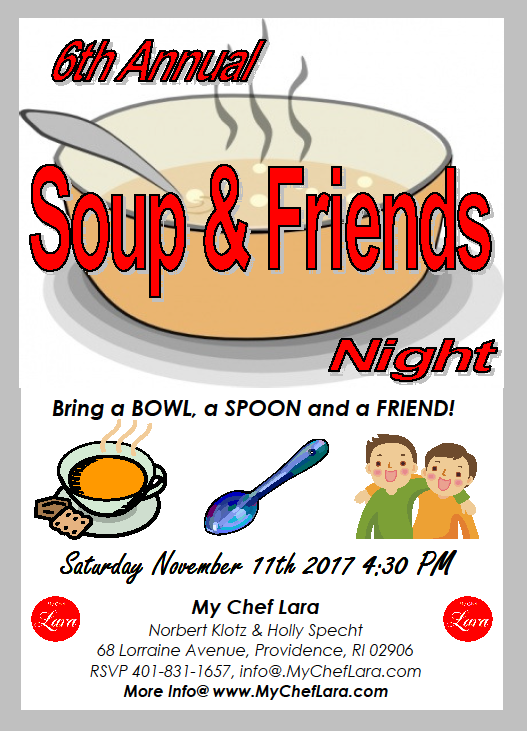 Are you looking for something free to do the evening of Saturday November 11th, 2017? Do you really love soup? How about free soup? Then you will love Soup Night!
Come to our 6th Annual My Chef Lara Soup Night where we celebrate community and food! Email or Call (401-831-1657) to RSVP! Bring a bowl, a spoon and a friend and we would love to see you!  Details below:
You are invited!
November 11th, 4:30 PM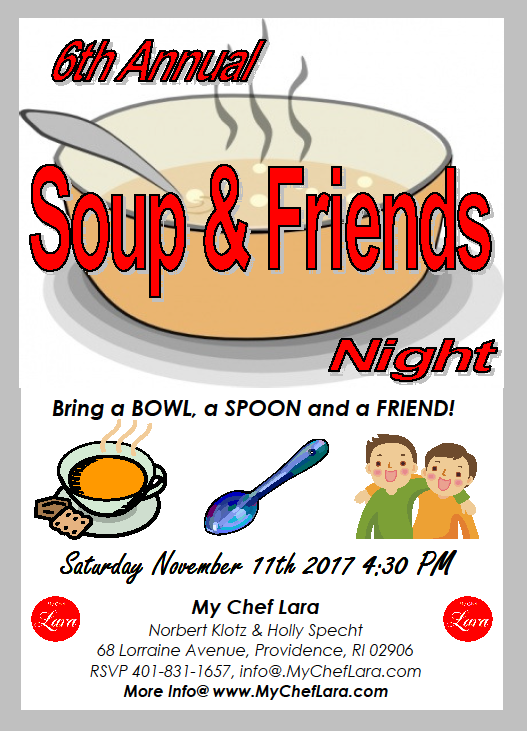 Mark Your Calendars: Six years ago we started an event which we called:
"Soup & Friends Night".
Bring a friend, a bowl and a spoon to our home on
68 Lorraine Ave. Providence, RI 02906. More than 80 people came last year and more than 14 gallons of soup were consumed during the five hours of gatherings. We had a lot of fun as did everybody else. Yes, it is that time of year again where we want to invite everybody to join us, have fun and consume SOUP.This year we have the following 4 delicious soups to offer:
Our famous Shrimp and Corn chowder (winner of the last five years)
A Russian Beef Borscht (tied with winner of last year)
A hearty Vegetarian Stew (new entry)
A Canadian Cheddar Cheese Soup (runner-up of 2015)
The event will start at 4:30 and will end when the last person leaves or all of the soups are gone.
There is a charity component to the Soup & Friends night. We have enjoyed a tremendous amount of food over the past years and we feel that it is important to give something back.
We will be making a monetary donation to the RI Community Food Bank on behalf of the Soup & Friends night.
There will be a large (soup) bowl on the main table to collect cash and checks made payable to the RI Community Food Bank.
We will give the collective donation to the RI Community Food Bank on November 14th and we will post the total amount raised on MyChefLara.com and our Facebook page.
Last year we generated an amount in excess of $750.
There is absolutely no charge to attend the Soup & Friends Night and no one should feel required to make a donation via our big bowl.
We would just love for you to be here and bring a friend, a bowl and a spoon and an appetite for soups.
We also give out some prizes for:
The biggest spoon (must be able to eat from it)
the most original bowl (tell us your story behind it)
the furthest distance traveled (NH has a good chance to win)
These awards will be given out at 6:30PM, so please be there prior to that time and share your spoon, bowl or location with the judges.
The winners will receive a quart of their favorite soup and a booklet with all of the delicious soup recipes of the evening.In order to be adequately prepared for this event we would like you to drop us a short RSVP either at
[email protected]
or call 401-831-1657.
Please come, bring a friend and have fun.Your Chefs
Lara & Norbert
Check out this video about Soup Night!